The DJI Spark is an ultra-compact mini-drone that combines DJI's most advanced intelligent flight features and flight technology to provide drone enthusiasts of any level with a fun and portable drone that can unleash the full potential of their aerial creativity.
CLICK IMAGE BELOW TO WATCH VIDEO
SEIZE THE MOMENT
The DJI Spark is the ideal aerial companion to take with wherever your journey takes you. The Spark features industry-leading technology and design features for an easy, and ready-to-fly experience.
The Spark features a fully stabilized 2-Axis gimbal system and an advanced camera capable of capturing 1080p video and 12-megapixel stills. Featuring all-new flight modes, streamlined controls, and a vision-based navigation system for reliable and safe flights, the DJI Spark is the perfect mini-drone for any aerial adventure.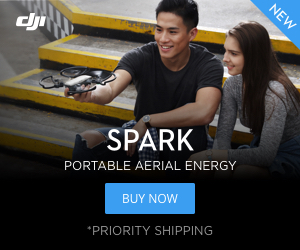 ---