Halloween is just around the corner and its this time of the year when we have to spend time deciding what Halloween costume and gadgets to buy for the season. We want you to have a great Halloween so we decided to create this collection of fun Halloween ideas 2018 guide to help you make a season to remember!
Digital Halloween Decoration
This Digital Halloween Decoration features specters, ghouls and poltergeists that have been released from human nightmares to infest this earthly realm. This follow-up to AtmosFEARfx's popular Ghostly Apparitions features a gathering of ghouls and spirits who levitate, shriek, fly and startle the mortals of this world.
---
Skull Candles
Ordinary candles can be spooky, but these bad boys will take it to the next level! Line up these four skull candles in your front yard for a terrifying Halloween decor!
---
Death Wish Ground Coffee
This is a perfect Halloween coffee. The Death Wish -World's Strongest Coffee in a 16-ounce bag. These beans are selected and roasted to perfection in order to provide a bold yet smooth tasting cup of coffee with that extra kick of caffeine that is sure to get your Halloween day going.
---
GINGERDEAD MEN Cookie Cutter
This double sided cookie cutter cuts and stamps 5-1/2-inch tall cookies. Heavy, durable and food-safe plastic Perfect for Halloween and Fun and easy to use.
---
Fairy Tale Costumes
When is it appropriate to wear a fairy costume? Let's see . . . there's at a Disney movie premiere, or when watching Peter Pan or Tinker Bell at home. How about a birthday party or a Renaissance Festival. Or in a school play or at a play date or even a date date! So whenever you want, silly! And that's why we made this guide, to help you find the very best fairy costumes for kids and for adults, too. We made sure to include plenty of accessories to give you all the fairy costume ideas you need to create your very own fairy tale!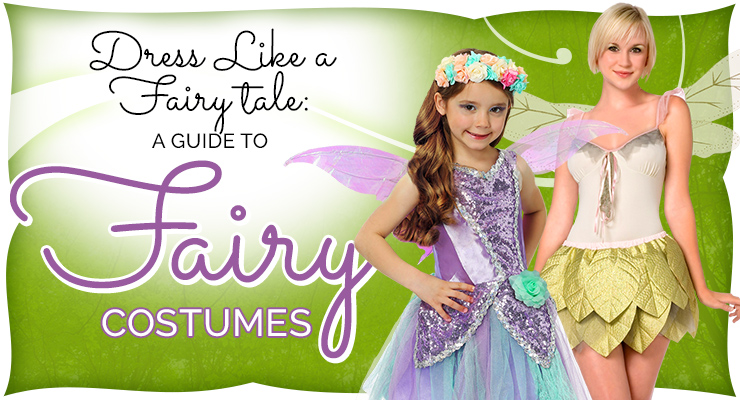 Find them here: DRESS LIKE A FAIRY TALE
---
Zombie Garden Gnome
Watch out! The Zombies have now invaded the realm of the Gnomes! Our macabre Gnome has only survived the Zombie invasion by joining the Living Dead. Sculpted in gruesome Zombie detail and cast in quality designer resin exclusively for Design Toscano, our post-apocalyptic Zombie Gnombie is hand-painted to create a full vision from bloody beard to graveyard hues.
---
Zombie Scarecrow Garden Statue
With gruesome fangs and demonic grimace, this goth garden sculpture from the demented imagination of artist Liam Manchester scares more than just the birds! Looking as if he's crossed over into the zombie realm, our our Design Toscano-exclusive scarecrow statue unleashes his reign of terror from beneath a straw-stuffed torso and tattered tunic sculpted in quality designer resin and hand-painted with macabre detail. The still-beating heart that lies within is pure evil destined for your ghoulish home or garden!
---
Star Wars 3D Deco Lights
The Dark Side is a very turbulent place. Sure they have cookies, but there are nooks and crannies in which darkness reigns so supreme, if you merely enter, you're likely to stub your toe. And even in armored boots, that's never good. Time to light up the Dark Side with these fun 3D Deco Star Wars Wall Lights.
From $14.99
---
Zombie Zipper Fx and Makeup Kit
If you don't mind spending time on make up then this zipper and make-up kit can give you a terrifying look that can surely turn heads.
---
Dinosaur Costumes
Dinosaurs have long fascinated human kind, even before the first Jurassic Park hit the big screen or the Land Before Time movies. (Please don't ask us to list them all. We lost track after five or so!) Dinosaur costumes are bound to be popular picks for this upcoming Halloween season because Jurassic World: Fallen Kingdom is out in theaters this summer. Maybe you're so hyped that you would attend the premiere in costume!  Perhaps you're wondering if there is more to dinosaur costumes than the t-rex, and we can say with certainty that we have so much more to offer! Your entire family can rock out in scaly style because we have everything from infants to adults and styles for men, women and pets!
Find them here: Dinosaur Costumes
---
Star Wars Darth Vader Pumpkin Push-ins
An excellent gift for Star Wars fans, simply paint a mini pumpkin a menacing shade of black and stick the push-in pieces in to bring the infamous Darth Vader to life. Transform any mini pumpkin this Halloween into the great Darth Vader with this geeky pumpkin push-in kit.
---
Skull Beer Funnel
Talk about a strange way to ingest liquid. Pour your devil's brew into the skull head and it empties into the receiver's mouth by way of the corrugated esophagus look tube.
---
Hard Boiled Egg Mold Skull
Simply place any peeled hard boiled egg into this food-safe plastic mold and it will magically transform it into an eerie skeleton's face – making it perfect for Halloween themed snacks. Give your meals a spooky touch using this skull egg mold.
---
Horror Sounds Instrument
It is the instrument that creates creepy sound, the sound which often occurs in horror movie and music.
This instrument is a unique, hand-crafted, water-filled musical instrument that creates hauntingly ethereal sounds reminiscent of humpback whale calls or the eerie, sci-fi sounds produced by a theremin. Because it's atonal, it is easy and fun to play! No instruction is required.
---
Carry Me Mascot Beer Man
This hilarious getup creates the illusion your drunken-self is being carried home by a very kind traditionally dressed Bavarian man. Get away with public intoxication this Halloween by hitting the streets dressed in this drunk piggy back ride costume.
---
Spider Pet Costume
Nothing screams "Sleep with one eye open!" like this scary dog spider costume! Pet Krewe's Scary Spider Costume for Dogs is not only loads of fun, but the quality will have you howling with joy. There's nothing like doubling the number of your dog's legs for a diabolical effect. It's great for parties, holidays, and general home entertainment. Remember, we're here if you need us. With so many imitations out there, make sure you're buying the best with Pet Krewe! TRANSFORM YOUR SWEET LITTLE POOCH INTO A TERRIFYING TARANTULA.
---
Inflatable Costumes that will blow you away!
Everyone loves a good funny costume! We're totally digging inflatable costumes after the first inflatable dinosaur costume went viral on YouTube. Even though it has been a few years since the inflatable t-rex costume starred in a viral Ninja Warrior YouTube video, the popularity of blow up costumes has increasing exponentially! What makes inflatable Halloween costumes so popular? Is it the bounce when someone walks? Is it the fact that they don't quite look realistic? We'll let you decide when you see our costume ideas in this funny inflatable costume guide!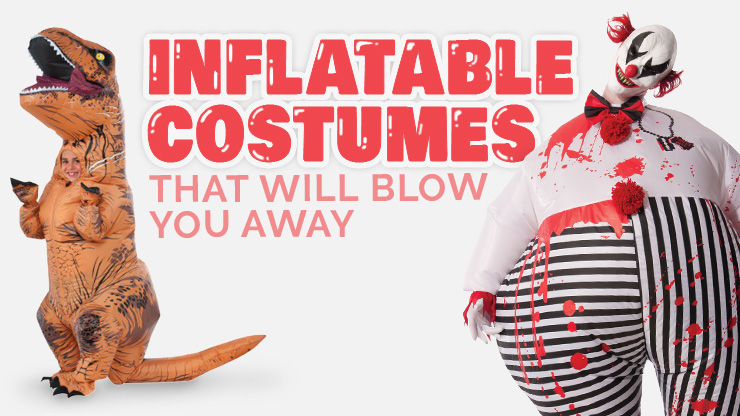 Find them here: Inflatable Costumes
---